2018 Nexus Dialogue Series
Nexus Dialogue on Biodiversity - Biodiversity Mainstreaming in the context of Human Security and Wellbeing, 2 - 3 May 2018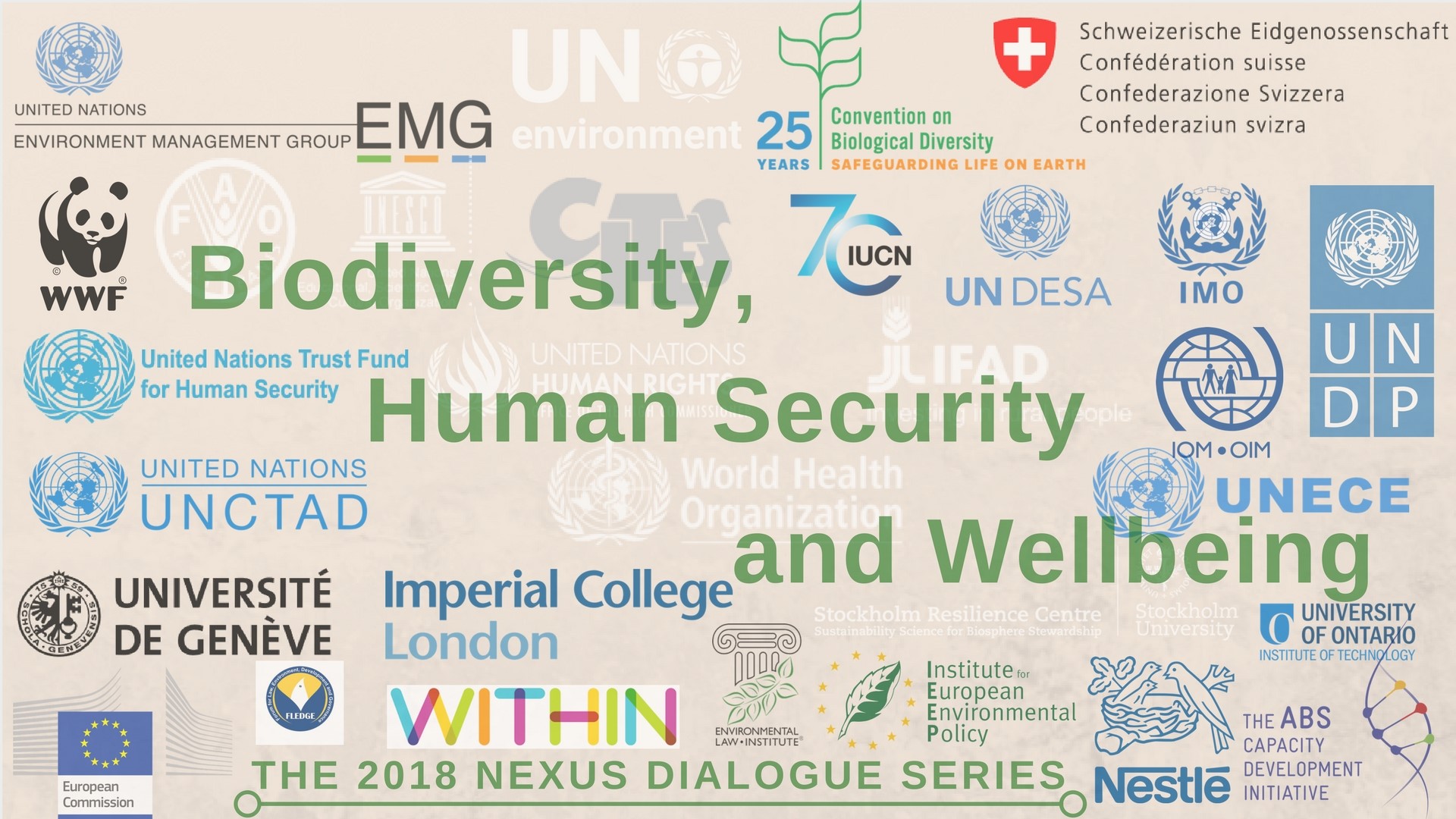 The first Nexus Dialogue of the 2018 series explored the interlinkages of Biodiversity with Human Security and Wellbeing during two days in Geneva. The Dialogue considered how the UN agencies and their partners can enhance their collaboration as well as individual efforts to support the implementation of  the 2030 Agenda for Sustainable Development.
We are now in the process of preparing the outcomes of this Dialogue which will be shared on this page soon. 
The Dialogue was organized in cooperation with the Secretariat of the Convention on Biological Diversity and with the support of the Swiss Government. 
Please see below the list of the speakers in each session and their presentations: 
Day one – May 2
Day one - Video
Opening and Introduction
Political Security and Biodiversity
Health Security and Biodiversity
Water Security and Biodiversity
Food Security and Biodiversity
Day two – May 3
Day two - Video 
Biodiversity, Climate Change and Eco DRR
Trade and Trafficking of Biodiversity
Moderator: Paola Deda, Chief, ECE-FAO Forestry and Timber Section, UNECE
Markus Pikart, Programme Support Officer, CITES (presentation)
Lorena Jaramillo, Economic Affairs Officer, UNCTAD
Florian Steierer, Economic Affairs Officer, UNECE/FAO Forestry and Timber Section Forests, Land and Housing Division, UNECE (presentation)
Pierre du Plessis, ABS Initiative
Biodiversity, Conflict and Migration
Moderator and speaker: Philippe Puydarrieux, Lead Natural Resource Economist, IUCN (presentation)
Asif Zaidi, Senior Advisor, Post Conflict and Disaster Management Branch, Policy and Programme Division, UN Environment (presentation)
Dina Ionesco, Head of Division, Migration, Environment and Climate Change, IOM
Lin Yan Hsiao, IUCN CEESP Theme on Environment+Peace (presentation)
Carl Bruch, Director, International Programs, Environmental Law Institute (via skype) (slide and talking points)
Communication Strategies
Moderator: Jyoti Mathur-Filipp, Director, Implementation Support Division, CBD and David Ainsworth, Information Officer, CBD
Sudhanshu Sarronwala, Executive Director, Marketing & Communications, WWF International (presentation)
Ricardo Tejada, Director Global Communications, IUCN (presentation)
Jeff Melnyk, Founding Partner, Within People (presentation)
Inga Petersen, Senior Extractives Advisor, Post-Conflict and Disaster Management branch, UN Environment (mapping tool)
Summarizing the findings of these two days and setting the scene for HLPF
Neville Ash, Director, UN Environment World Conservation Monitoring Centre – Lead Moderator of the Dialogue
Hossein Fadaei, Head of UN Environment Management Group Secretariat
Mehrnaz Mostafavi, Chief, UN Human Security Unit (HSU)
Jyoti Mathur-Filipp, Director, Implementation Support Division, CBD
Should you have any questions please contact us at EMG[at]un.org.