The Environment Management Group was established in 2001 pursuant to the General Assembly resolution 53/242, paragraph 5, which supported the proposal of the Secretary-General to establish an environmental management group for the purpose of enhancing United Nations system-wide inter-agency coordination related to specific issues in the field of environment and human settlements.The work of the EMG is determined by consensus of the 51 Member Agencies who gather at the annual Senior Officials Meeting (SOM) and its respective technical segment, in the margins of the UN General Assembly. 
Environment Management Group (EMG) Midterm meeting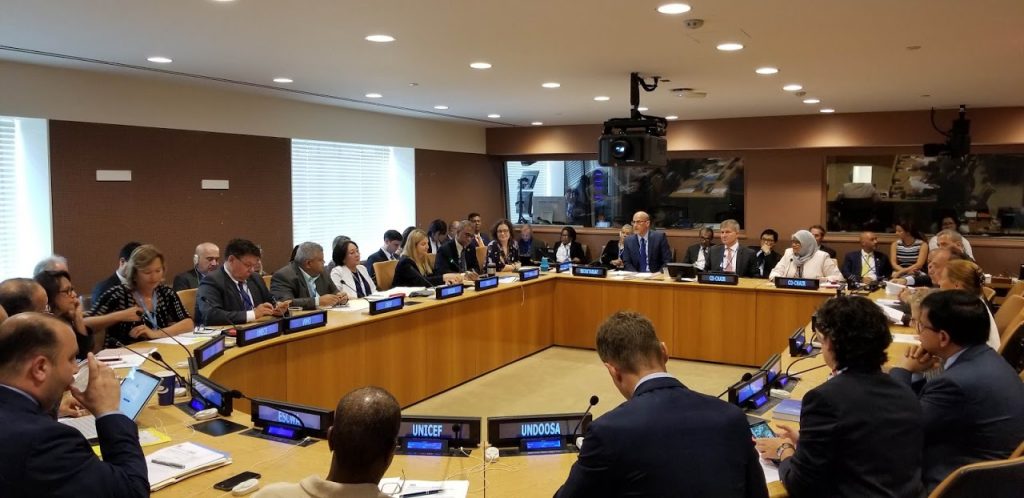 The Midterm meeting of the Environment Management Group will be held on Monday, 20th May 2019 at 15:30 Geneva time.
The aim of the midterm meeting is to update you on the progress made by the Environment Management Group(EMG)since the last meeting of the Senior Officials and to initiate a discussion on the EMG work plan for 2020 in preparation for the 25th meeting of the EMG Senior Officials to be held in September in the margins of the 74th Session of the United Nations General Assembly and the Secretary General Climate Summit.
Meeting Documents:
Background document – Strategy for Sustainability Management in the UN System
Briefing note – UN Decade of Ecosystem Restoration 2021-2030
Issue Note – Sustainable Infrastructure
Issue Note – Sustainable Food Systems
Previous Meetings and Archives

The meetings of the Senior Officials of the EMG are planned as required to facilitate a timely approach to addressing emerging issues of high importance at the global environmental and human settlements agenda, and to integrate knowledge available in the UN system.
The Senior Officials of the EMG have, as of 2017, met twenty-three times at the purpose of discussing the progress and the future of the EMG works going forward, as well as its place in the framework of the 2030 Agenda for Sustainable Development
The Decisions taken during the most recent Senior Official Meetings can be found in the following reports: