In 2021, UN Secretary-General António Guterres will convene a Food Systems Summit as part of the Decade of Action to achieve the Sustainable Development Goals (SDGs) by 2030 with the intention of inducing collaborative efforts to Build Back Better , and transform the way society produces, consumes, and considers food.
The Summit supports nutrient-rich Food Systems Dialogues, one of the five priority workstreams, which provides an opportunity to engage multi-level stakeholders (including governments, communities, academia, etc.) in discussing food systems and identifying ways to improve their resilience – especially against future pandemics and other crises.
Against this background, the UN Environment Management Group (EMG), in close collaboration with UNU Institute for Integrated Management of Material Fluxes and of Resources (UNU-FLORES) will organize a Food System Resilience through Integrated Natural Resource Management (7 June 2021) Nexus Dialogue as an independent dialogue of the Food System Summit, respecting the three key features: respectful of the Summit's three principles of engagement; featuring structured conversations among stakeholder groups with different perspectives; and contribute to the Summit.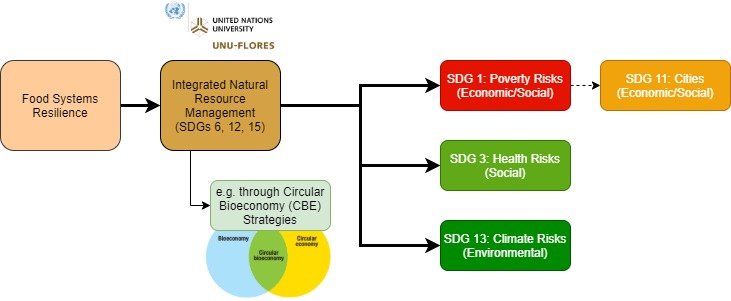 In recognizing that food systems are simultaneously the cause- and effect of layered variables and interactions, the Nexus Dialogue seeks to investigate the accelerating effect of Integrated Natural Resource Management ("INRM"), underlined by Donella Meadows' systems-thinking framework for leverage points . A leverage point is a place in a system's structure where a solution can be applied.
Arguably, INRM is a high impact leverage point which expedites the beneficial effect of resilient food systems on socioeconomic and environmental wellbeing. With the aim of detangling complexity, the Dialogue will focus on INRM's impact, enhanced through Circular Bioeconomy ("CBE") strategies , on reducing the risks of Poverty, Health, and Climate.