The challenge
E-waste is one of the fastest growing waste streams in developed as well as developing countries. The decreasing life-span of products such as computers and mobile phones has reduced significantly in developed countries, subsequently increasing the amount of e-waste generated per year.
This has a major impact on developing countries because much of this hazardous material is exported from developed to developing countries. Rudimentary methods like open burning, which are widely used by the informal sector in developing countries to recover valuable materials, have heavy impacts on the environment and human health.
Key figures
o    In 2016, 44.7 million metric tonnes of e-waste were generated, of which only 20% was collected and recycled
o    The United Nations has engaged in over 150 projects, publications, reports and programmes since the year 2004
o    The estimated value of raw materials in e-waste stands at roughly 55 billion euros, which is more than the GDP of most countries in the world
o    Approximately half of the elements of the periodic table go into the production of a mobile phone including rare elements such as neodymium, terbium and dysprosium
o  6 categories of e-waste exist: temperature exchange equipment, screens, lamps, large equipment, small equipment, small IT
The response
As a response to this growing waste stream, an increasing number of initiatives from international actors have been established, including work by the United Nations, which has committed itself progressively towards addressing the global e-waste challenge.  Because of its transboundary nature, the challenge of undocumented and unrecycled e-waste requires the involvement of different countries to address responses to those multi-faceted issues. These have been implemented by a multitude of stakeholders across the life-cycle of electrical and electronic equipment. However, such a global response is lacking coordination.
The EMG's Issue Management Group on Tackling E-waste was established to increase knowledge sharing and awareness of this topic while aiming to analyse possible coordination efforts at the international level. Early work of the IMG included the publication of a report on a United Nation's System-wide Response to Tackling E-waste, which offers recommendations on maximizing system-wide coherence towards a life-cycle approach to tackling e-waste. The report highlighted the need for strengthened collaboration among United Nations organisations, with over 20 organisations active in tackling e-waste and over 150 e-waste initiatives having been undertaken since 2004.
In March 2018, a non-binding Letter of Intent was signed by seven organisations from the United Nations system, most active in addressing the global e-waste challenge. This paved the way for coordination and collaboration on United Nations system-wide support for e-waste management and the creation of an E-waste Coalition.
Continued collaboration with important actors to encourage circular electrical and electronic equipment has led to increased collaboration between the signatories of the Letter and other entities like the World Economic Forum and the World Business Council for Sustainable Development.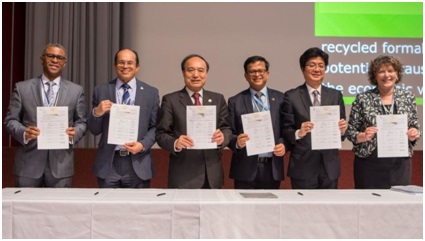 Since the signing of the Letter, initial steps have been taken leading to build a non-binding  E-waste Coalition.
This is being developed in line with the Letter's aims of committing to increased collaboration, building partnerships and supporting Member States to address the global e-waste challenge.
The E-waste Coalition is taking forward the three Areas of Cooperation laid out in the Letter:
1.)    Support a UN system-wide knowledge sharing platform on e-waste for UN entities
2.)    Implement strengthened UN system-wide programmatic collaboration on e-waste
3.)    Strengthen UN system-wide engagement with other stakeholder groups
4.) Consider ways to deliver as one in countries to tackle national e-waste problems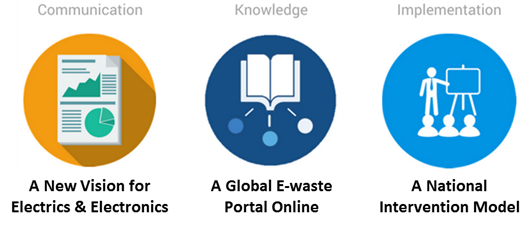 The E-waste Coalition Concept Note is a living document, developed as the E-waste Coalition vision and mission are conceptualized through multilateral meetings and collaboration among key stakeholders.
The 3 initial programme areas of the Coalition are visualized to the left: communication, knowledge, and implementation.
To find out more or to become involved, please contact the EMG Secretariat at emg@un.org
Related links and resources:
https://www.wrforum.org/events/other-events/united-nations-electronic-waste-coalition/
https://www.unenvironment.org/news-and-stories/story/end-electronic-waste-united-nations-organisations-highlight-their-commitment
https://www.itu.int/en/ITU-D/Climate-Change/Pages/Building-an-E-waste-Coalition.aspx
https://www.itu.int/en/ITU-D/Climate-Change/Documents/GEM%202017/Global-E-waste%20Monitor%202017%20.pdf
https://zoinet.org/wp-content/uploads/2018/02/E-Waste-Summary-WEB.pdf