Nexus Dialogue on Biodiversity – Biodiversity Mainstreaming in the context of Human Security and Well-being, 2 – 3 May 2018
The first Nexus Dialogue of the 2018 series explored the interlinkages of Biodiversity with Human Security and Wellbeing during two days in Geneva. The Dialogue considered how the UN agencies and their partners can enhance their collaboration as well as individual efforts to support the implementation of  the 2030 Agenda for Sustainable Development.
The outcome of the Dialogue Nature Opportunities for Human Security can be found here.
The Dialogue was organized in cooperation with the Secretariat of the Convention on Biological Diversity, with the support of the Swiss Government and the technical support of the International Union for Conservation of Nature and the World Wide Fund for Nature.
You can view the recorded sessions here.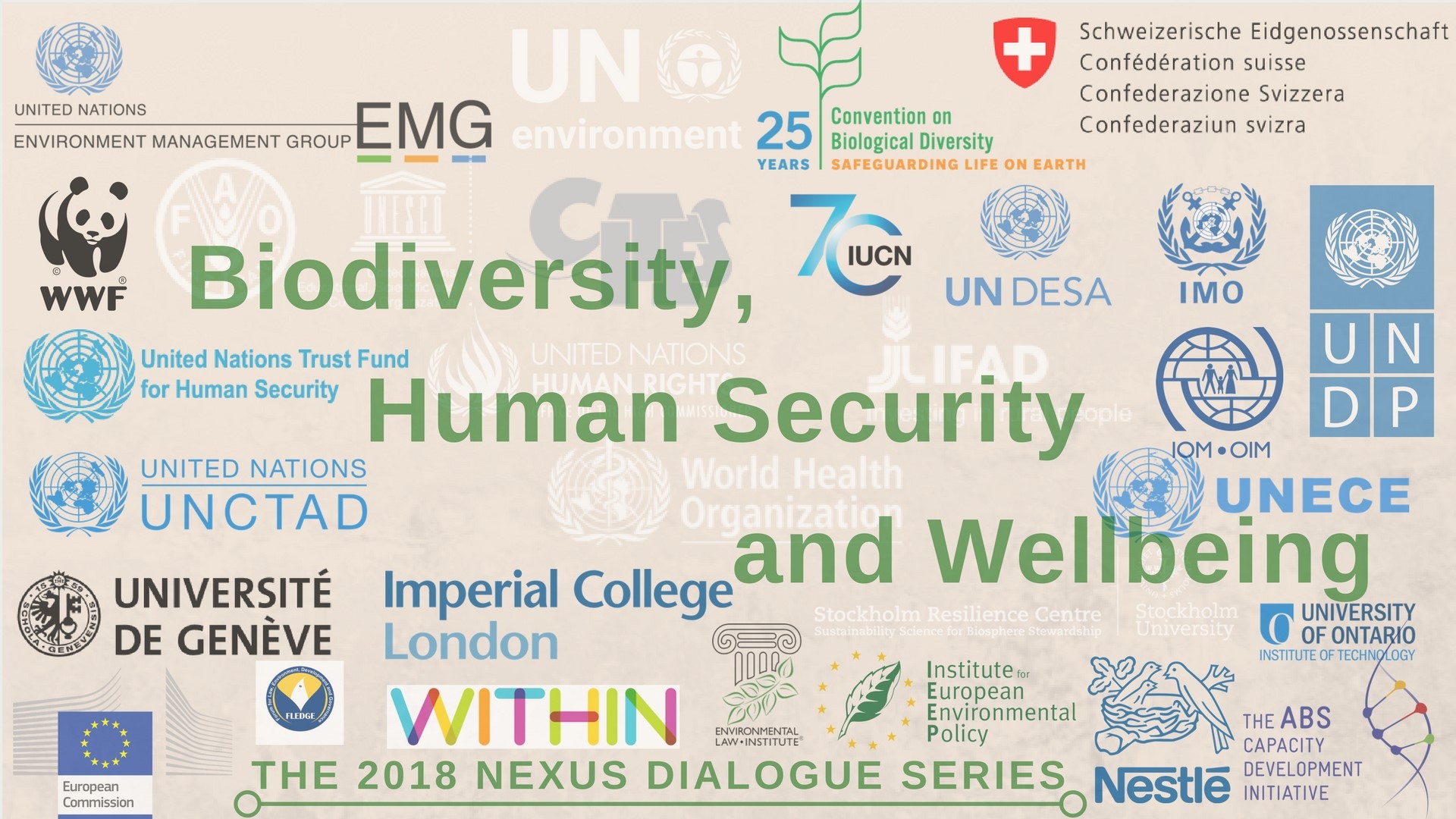 Please see below the list of the speakers in each session and their presentations:
Opening and Introduction
Cristiana Pașca Palmer, UN Assistant Secretary-General, Executive Secretary of the Convention on Biological Diversity (video message)
Elliott Harris, UN Assistant Secretary-General, Economic Development and Chief Economist in the Department of Economic and Social Affairs (via skype)
Ambassador Michael Gerber, Special Envoy for Global Sustainable Development, Switzerland (presentation)
Marco Lambertini, Director General, WWF International
Mehrnaz Mostafavi, Chief, UN Human Security Unit (HSU) (statement)
Jyoti Mathur-Filipp, Director, Implementation Support Division, CBD
Hossein Fadaei, Head of UN EMG Secretariat – Welcome remarks
Neville Ash, Director, UN Environment World Conservation Monitoring Centre – Lead Moderator of the Dialogue
Political Security and Biodiversity
Moderator: Sofie Flensborg, Legal Officer, CITES
Soo Young Hwang, Human Rights Officer, OHCHR (presentation)
Dr. Claudia Ituarte Lima, Researcher on International Environmental Law, Stockholm Resilience Centre and Advisor, SwedBio (presentation)
Dr. Caroline Howe, Lecturer, Imperial College London (presentation)
Health Security and Biodiversity
Moderator: Cristina Romanelli, Interagency Liaison on Biodiversity and Health, CBD-WHO
Elaine Fletcher, Senior Editor, WHO
Dr. Anna Zongollowicz, Senior Specialist, Research & Analysis, WWF International
Dr. Peter Stoett, Dean and Professor, Humanities and Social Sciences at University of Ontario Institute of Technology (via skype)
Catherine Machalaba, Policy Advisor, EcoHealth Alliance (via skype) (presentation)
Water Security and Biodiversity
Moderator: Meriem Bouamrane, UNESCO
Dr. Blanca Elena Jiménez-Cisneros, UNESCO-International Hydrological Programme (UNESCO-IHP) (presentation)
Stuart Orr, Practice Leader, Freshwater, WWF International
Dr. Megan Jensen, Marine Environment Division, IMO (presentation)
Food Security and Biodiversity
Moderator: Balakrishna Pisupati, Chairperson, FLEDGE
Marieta Sakalian, Coordinator for Healthy & Productive Ecosystems Sub-Programme, UN Environment (presentation)
Irene Hoffmann, Secretary of the Commission on Genetic Resources for Food and Agriculture, FAO
Joyce Njoro, Lead Technical Specialist – Nutrition-sensitive Agriculture & Rural Development IFAD (presentation)
Dionys Forster, Sourcing Specialist, Nestlé (presentation)
Biodiversity, Climate Change and Eco DRR
Trade and Trafficking of Biodiversity
Moderator: Paola Deda, Chief, ECE-FAO Forestry and Timber Section, UNECE
Markus Pikart, Programme Support Officer, CITES (presentation)
Lorena Jaramillo, Economic Affairs Officer, UNCTAD
Florian Steierer, Economic Affairs Officer, UNECE/FAO Forestry and Timber Section Forests, Land and Housing Division, UNECE (presentation)
Pierre du Plessis, ABS Initiative
Biodiversity, Conflict and Migration
Moderator and speaker: Philippe Puydarrieux, Lead Natural Resource Economist, IUCN (presentation)
Asif Zaidi, Senior Advisor, Post Conflict and Disaster Management Branch, Policy and Programme Division, UN Environment (presentation)
Dina Ionesco, Head of Division, Migration, Environment and Climate Change, IOM
Lin Yan Hsiao, IUCN CEESP Theme on Environment+Peace (presentation)
Carl Bruch, Director, International Programs, Environmental Law Institute (via skype) (slide and talking points)
Communication Strategies
Moderator: Jyoti Mathur-Filipp, Director, Implementation Support Division, CBD and David Ainsworth, Information Officer, CBD
Sudhanshu Sarronwala, Executive Director, Marketing & Communications, WWF International (presentation)
Ricardo Tejada, Director Global Communications, IUCN (presentation)
Jeff Melnyk, Founding Partner, Within People (presentation)
Inga Petersen, Senior Extractives Advisor, Post-Conflict and Disaster Management branch, UN Environment (mapping tool)
Summarizing the findings of these two days and setting the scene for HLPF
Neville Ash, Director, UN Environment World Conservation Monitoring Centre – Lead Moderator of the Dialogue
Hossein Fadaei, Head of UN Environment Management Group Secretariat
Mehrnaz Mostafavi, Chief, UN Human Security Unit (HSU)
Jyoti Mathur-Filipp, Director, Implementation Support Division, CBD